June 2022: EU4 Law Town Hall Conference - Cities and the Rule of Law

June 29, 2022, Red Town Hall, Louise-Schroeder-Saal, Rathausstr. 15, 10178 Berlin in cooperation between the Berlin Senate Chancellery and Humboldt-Universität zu Berlin
The debate on the shortcomings of the rule of law and the curtailment of judicial independence is often portrayed as a cause of disagreement between EU institutions and member state governments. While many citizens perceive this as an abstract debate that is detached from their everyday lives, in fact, the opposite is true. Local self-government is impacted, too, and this has direct consequences for the administrations' ability to provide public services. One response, e.g. from mayors across Europe, was their letter to the European Commission that the EU should redirect their funds directly to the local level.
The EU4Law Town Hall Conference brought together practitioners from public administration, civil society actors and academics from Poland, Hungary, the Czech Republic and Berlin, along with the wider public as the recipients of public services. The dialogue between these diverse participants, who otherwise have little contact, provided a comprehensive and comparative understanding of the problem. The aim was to discuss not only the relevance of the rule of law for the local level, but also to exchange experience and to discuss what needs to be done in the future, e.g. through civic education. In addition, this conference explored how the EU and the local level can connect in a more direct and effective way.
The participants shared the understanding that without the rule of law, transparency and reliability of administrative procedures as well as sufficient revenues and self-government capacities, cities cannot function properly and citizens lose confidence in their administration. They also stressed that there are strong signs of hope: Many cities are sources of resistance and vibrant democratic communities. Their networking among each other and especially the "Pact of Free Cities" help them to retrieve their scope of action. Talks with the EU Commission about redirecting financial means directly to the local level are going on, even though member states are not too eager to share their budgets. As the most important outcome, the conference found: City diplomacy has become extremely relevant and intense. Cities have turned into important agents of democratic resilience.

Schedule:
14:00 – 14:10 Ms. Ana-Maria Trăsnea, State of Berlin Delegate to the Federation, Permanent     Secretary  for Active Citizenship, Democracy Support and International Relations – Welcoming Address
14:10 – 14:15 Dr. Claudia Matthes, Humboldt-Universität zu Berlin (EU4Law Project) – Opening Remarks
14:15 – 14:45 Mr. Roman Szełemej, Mayor of Wałbrzych (Poland) – Keynote Speech on the Meaning of Rule of Law for Local Administrations
14:45 – 15:30 Session 1: Rule of Law, Finances and Local Budgets, opening inputs from Ms. Borbála Korsós, Deputy Mayor of the I. District of Budapest and Mr. Olaf Osica, Head of the Strategy and Analysis Office of City of Warsaw Office
15:30 – 16:15 Session 2: Judicial Systems and Their Relevance for Public Administration, opening input from Dr. Gülçin Coşkun, Humboldt-Universität zu Berlin
16:30 – 17:15 Session 3: Strengthening the Rule of Law through Civic Education, opening inputs from Prof. Aldona Wiktorska-Święcka, University of Wrocław and Ms. Annegret Wulff, Managing Director of MitOst
17:15 – 18:00 Session 4: Local Administration in Collaboration with the EU, opening input from Dr. Benedek Jávor, Head of Representation of the City of Budapest in Brussels
18:00 – 18:10 Final Remarks by Dr. Claudia Matthes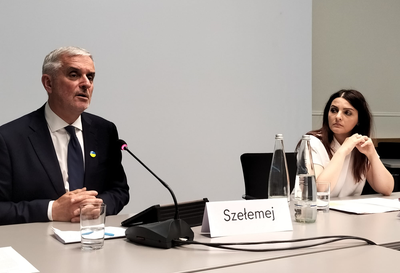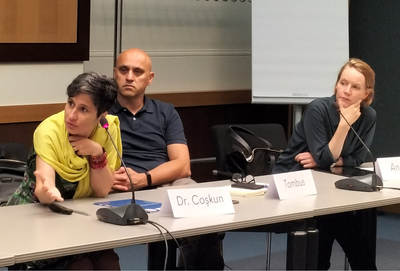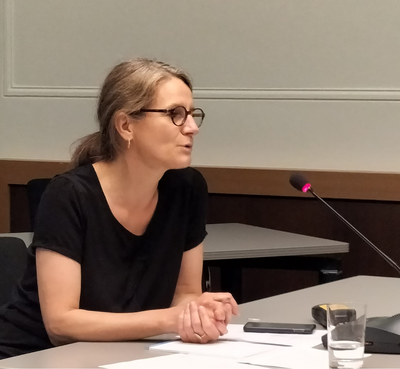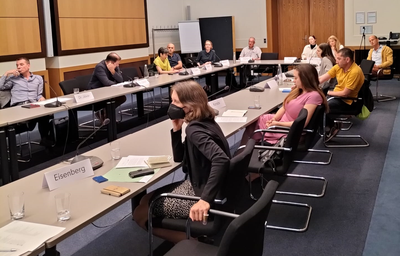 Multilevel Governance and Federal Politics in Comparison - Transatlantic Excursion
In the winter term of 2021/22 and the summer term of 2022, a joint seminar was conducted by the Jean Monnet Center of Excellence of the University of North Carolina in Chapel Hill and Humboldt University of Berlin, followed by two excursions to Chapel Hill and Berlin.
Dr. Dominic Nyhuis and Dr. Claudia Matthes connected their seminars called "European Multilevel Governance" (UNC) and "Germany - a Federal System in Europe" (HU) to an interactive collaboration allowing students of both universities to work on common projects. The students researched current transatlantic issues from different perspectives, especially with regard to multilevel governance and federalism. Their topics covered the mitigation of the COVID-19 pandemic, political polarization, public education and civil rights, migration and diversity as well as local economies in federalist states.
Five digital seminars were then followed by two five-day visits conducted in spring 2022.  In March, ten HU-students and Dr. Matthes visited Chapel Hill and in May, ten UNC students and Dr. Nyhuis traveled to Berlin. In addition to the work on their projects, the students visited several political and cultural institutions and were thus able to get a better understanding of the working and implications of federalist structures in both, the US and Germany.
The student projects are published here.