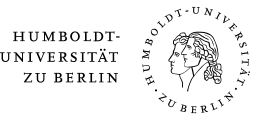 Application
Applicants who have completed their secondary education (high-school diploma, IB, Abitur, A-levels or equivalent) in Turkey must apply to the Middle East Technical University.
Application at Humboldt-Universität zu Berlin
Applicants who have completed their secondary education (high-school diploma, IB, Abitur, A-levels or equivalent) in any other country than Turkey must apply in Berlin.
The admission process consists of the submission of the application documents and an interview with the GeT MA admissions committee. The application interviews will be conducted via video call.
Application deadline: 1st June, 2020
Required documents:
Statement of purpose (maximum 2 pages, English)
Please state your motivation to apply for the GeT MA program. Explain your objectives and targets, research, fields of interest, and relevant background. Indicate your honor(s), scholarship(s), publications etc.
Curriculum Vitae
Two letters of recommendation
It is recommended that you request letters of recommendation from faculty members of the last institution you were enrolled in as a full-time student. Ideally, your referees will be professors who know you well from their courses you attended. The letters must be sealed and be either sent directly to the GeT MA office or handed in together with the application forms. (Please note: References have to be composed in English.)
Copy of High School Diploma (e.g. Abiturzeugnis, Baccalauréat, A-Levels)
Copies of B.A. degree or an equivalent degree in a relevant area of study (e.g. Social Science, Political Science, Sociology, European Studies, History, Public Administration, Public Policy, Law or Economics,Turcology & Oriental Studies)
Records of study or transcripts from all universities attended
Certificates attesting language proficiency in English - equivalent B2:
- TOEFL (iBT): 86
- IELTS: 7,0
Please fill in the respective fields in the application form and include copies of relevant score reports in your application package. Should you not have your test results yet, please include a copy of the registration form that states the test date.
One Writing sample (maximum 10 pages, in English or German)
Submit your B.A. thesis, term paper or any writing sample from your previous studies.
Please send the application form with all the other application materials by email to: info.getma@sowi.hu-berlin.de
Furthermore, please submit a signed printout with all the other application materials to:
Humboldt Universität zu Berlin
Institut für Sozialwissenschaften
German Turkish Masters Program - Application
Unter den Linden 6
10099 Berlin
Germany
Please note: It is not possible to return any of the application documents, hence you should only send copies of the originals. All application documents should be mailed in an adequately sized envelope, so they are not bent or folded (e.g. A 4-size envelope). The application package may also be submitted to our office at the Institute of Social Sciences of Humboldt University Berlin in person. The Institute of Social Sciences bears no responsibility for non-delivered applications. Successful applicants will be asked to hand in originals or certified copies of all documents upon registration.